Okay guys, sorry it has taken me so long but here it is. The hall of fame for episode two. The current challenge is still running because participation has been not what would be awesome. So I will let that one run until probably Sunday when I will post the challenge for 01x04

Wow. All of these icons are really really great! Now, in order to get into the Hall Of Fame all you had to do was create more than one piece of art so if you did, grab a banner and take a look under the cut to see which of yours was picked!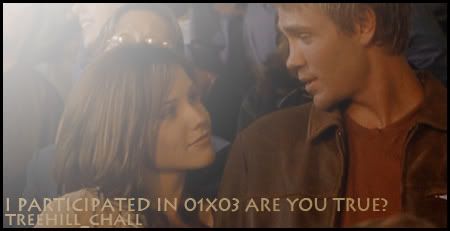 banner by
funnygirl46
by
indie_sunrise
I love this icon. Mostly because I love season one Mouth and Jimmy they were so cute and this icon totally captures it.



by
larissadawn
Brooke is so different season one than she is in any other season. I love this icon, the coloring is fantastic!



by
harvesterj88
Another Mouth and Jimmy icon! I love it. My favorite part is the text, it fits in just right. :)


by
alicia14
This icon captures the essence of the third episode. I just love the coloring and the way that there is no text. It makes it complete.